L'Administration luxembourgeoise vétérinaire et alimentaire (ALVA), en tant que Point Focal de l'EFSA, a organisé sa traditionnelle conférence scientifique "Research in Food Safety" qui s'est tenue en ligne le 9 décembre de 9 à 13 heures.
La conférence a eu beaucoup de succès avec plus de 130 personnes enregistrées ainsi que des discussions très intéressantes.
Les présentations étaient très variées et ont essayé d'aborder le concept du "One Health" - "une seule santé".
L'agenda détaillé se trouve ici et les présentations ainsi que les abstracts peuvent être consultés ci-dessous.
*********
The Luxembourg Food and Veterinary Administration (ALVA), as EFSA Focal Point, has organised its traditional scientific conference "Research in Food Safety" which was held online on 9 December from 9 am to 1 pm.
The conference was very successful with over 130 people registered and very interesting discussions.
The presentations were very varied and tried to address the concept of "One Health".
The detailed agenda can be found here and the presentations and abstracts can be found below.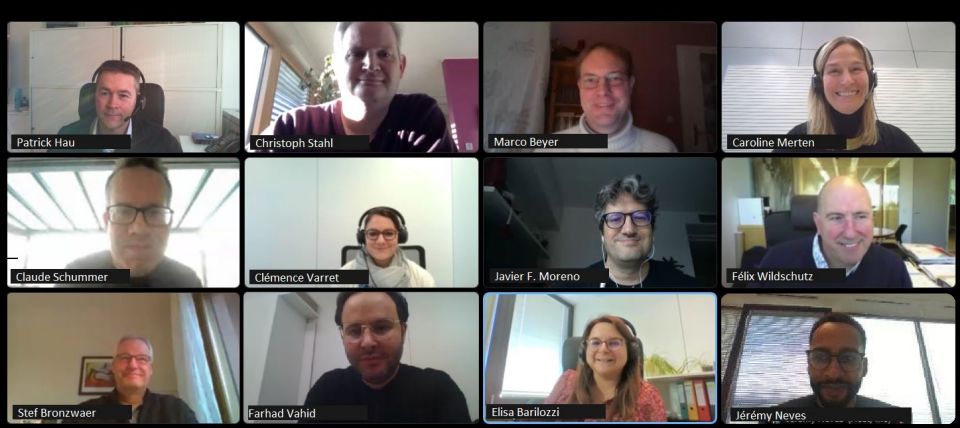 1. Presentation of ALVA
Dr. Félix Wildschutz (Administration luxembourgeoise vétérinaire et alimentaire - ALVA)
 2. What's next after the ONE – Health, Environment, Society conference
Dr. Stef Bronzwaer (European Food Safety Authority - EFSA)
Abstract and Presentation

Background

On 21–24 June 2022, the European Food Safety Authority, together with the European Centre for Disease Prevention and Control, the European Chemicals Agency, the European Environment Agency, the European Medicines Agency, and the Joint Research Centre of the European Commission, held the "ONE – Health, Environment & Society – Conference 2022".

Scope and approach

The conference brought together experts and stakeholders to reflect on how scientific advice related to food safety and nutrition will need to develop to respond to a fast-changing world. The event also explored how institutions that provide such advice should best prepare for the challenges ahead, and how they can contribute to policy targets and societal demands for safe, nutritious and sustainable food.

Key findings and conclusions

Overall, participants concluded that food safety assessments must be further advanced to remain fit for purpose and increase their relevance to society. To address the growing complexity in science and society, new ways of working that connect and integrate knowledge, data and expertise across a wide range of disciplines, sectors and actors must be embraced. One Health provides a valuable conceptual framework for advancing food safety assessments by ensuring the delivery of more integrated, cross-sectoral and collaborative health assessments. These assessments may help to better inform policies that support the transition towards a sustainable food system. As such, One Health could serve as a steppingstone to sustainable food. Urgent action is now required to define how the One Health principles can be implemented in food safety and nutrition.
3. Environmental contamination of beeswax in contact with food
Dr. Sc. Claude Schummer (Laboratoire National de Santé – LNS)
Abstract and Presentation

Beeswax is becoming increasingly popular as a food additive or food contact material. In the European Union, Regulation 1935/2004 authorizes its use as a food additive (E901) and so beeswax is used as a glaze for fruits such as melons, apples or pears. Beeswax has also become very popular in the production of beeswax wraps, but there is yet no material-specific legislation for beeswax as FCM.

Beeswax is a natural product and is considered food grade, meaning that it is excreted by the human organism without being digested. Since it passes through the human metabolism, it must not contain any harmful substances. However, beeswax is in contact with environment when being in the beehives, and so exposed to environmental pollution. This has been shown before for pesticides, thus on quite limited selections of pesticides, and with a focus on insecticides in order to investigate health risk of pesticides for bees. Little is known about the presence of pesticides and other environmental pollutants in beeswax with a focus on its use as food additive or FCM. Therefore, the scope of pesticides has been seriously enlarged in this study, and other ubiquitous pollutants have been added: phenols, polycyclic aromatic hydrocarbons (PAHs) and phthalates.

Three kinds of beeswaxes were analyzed: non-treated honeycombs, yellow beeswax pellets and white beeswax pellets. All families of pollutants were detected in all kinds of beeswaxes. Pesticides showed the highest average concentrations, followed by PAHs, phenols and phthalates. This is quite in line with concentrations measured in the atmosphere.

The study confirmed the presence of environmental contaminants in beeswax, and thus beeswax represents a possible health risk in the context of its use as food additive or FCM.
4. Pesticide residues in pollen collected by honey bees
Dr. agr. habil. Marco Beyer (Luxembourg Institute of Science and Technology – LIST)
Abstract and Presentation

The active ingredients of pesticides (115 compounds) were quantified in pollen samples (n=592) collected at seven apiaries in Luxembourg over the period 2018-2020 by GC-MS/MS or LC-MS/MS. The highest concentrations were found for the fungicides tebuconzole, boscalid, and azoxystrobin. Compared with previous measurements carried out in 2012 and 2013 in the same region, the percentage of samples containing insecticides decreased, while the percentage of samples containing fungicides increased. The annual winter colony losses among 28 experimental colonies were rather low (9.6% on average) in 2018-2020. In contrast to the situation in 2012-13 with 28% colony losses at the national level, there was no statistically significant association between pesticide residues in the pollen and colony survival in the period 2018-20. The present data suggest that the pesticide residue mix in pollen became less risky for bees between 2012-13 and 2018-20 due to a shift from insecticides to fungicides.
5. Presentation of TECHONEY - Development of a blockchain-based ecosystem that allows an improved positioning of small producers of honey on local and international markets
Dr. Christoph Stahl (Luxembourg Institute of Science and Technology – LIST)
Abstract and Presentation

TECHONEY's main objective is to identify strategies and establish lines of resilience to the new challenges determined by the COVID-19 pandemic for beekeepers in the Mediterranean (Med) agricultural systems through the implementation, definition, enhancement and transfer of competitive, profitable, efficient and trustful honey supply-chain alternatives that address beekeepers' capacities and attractiveness to fulfil consumer needs on unexpected food market changes. To fulfil the main objective, the project proposes the development of a traceability system to guarantee the quality and safety of honey within the supply chain for more effective communication to consumers and to strengthen access to different markets (e-commerce, direct sales, etc.). TECHONEY is structured in four main technological pillars: 1) creation of a consortium IoT blockchain platform that involves various actors in the honey supply chain to ensure transparency and traceability, in addition to reducing costs and ensure the traceability in the honey supply chain; 2) creation of a transformative learning community to ensure a smart-short-resilient shared supply chain; 3) characterization of the quality of honey to guarantee its traceability within the blockchain directly by consumers; 4) develop ICT tools for honey supply chain participants and consumers. The project proposes to design and develop a multidimensional framework to analyse six full honey supply chains (farm to table) that will integrate economic, social and environmental indicators, and a traceability system, with a bottom-up approach considering the stakeholders´ perspectives. The participatory approach of the project is based on the creation of a Honey Innovation and Learning Ecosystem (HILE) living-lab (LL) that will be the arena to collect information from the honey sector and consumers and to transfer and apply the new optimized models. Moreover, a consortium blockchain, coupled with IoT (Internet of Things), the system will be created to offer real-time tracking and complete traceability of honey along the supply chain.
6. Luxembourg's National Antibiotic Plan
Clémence Varret PharmD (Direction de la Santé)
7. Sustainability of dietary patterns – how have their environmental and climate impact changed in participants of the Luxembourg ORISCAV-LUX studies during the last 10 years
Dr. Farhad Vahid (Luxembourg Institute of Health - LIH)
Abstract and Presentation

The NutriHealth Group activities include scrutinizing nutritional exposure through food patterns and (non-) nutrient characterization, and modeling the diet-disease relationship, with a particular focus on metabolic and health-related conditions.

More specifically, the group seeks to provide the research, medical, and general population communities with easy-to-use (bio-)markers to assess emerging risk factors of morbidities, such as oxidative stress, antioxidant status, inflammation, and body composition disturbances. This is achieved via in vitro/cellular modeling and human observational and intervention studies, exploring a variety of markers ranging from questionnaires/indices and individual compounds to -omics based tools, also studying factors resulting in inter-individual differences to dietary exposure, such as genetic background and microbiome.

The NutriHealth goal is to expand our expertise to better understand the relationship between (non-) nutrients, dietary patterns, and chronic and age-related health issues such as cardiometabolic diseases, cancer, frailty, and cognitive aspects and to contribute to improving the control and prevention of diseases via translational research. We are also interested in not only healthy dietary patterns,but also whether a healthy diet can go along with a sustainable one.
8. Dietary modulators of human & animal gut microbiome- One health approach
Dr. F. Javier Moreno (Institute of Food Science Research, CIAL - CSIC-UAM (Spain))
Abstract and Presentation

The call "Thematic grants: Preparedness for future challenges in specific areas of EFSA`s work" is based on EFSA's 2020-2022 draft Work Programme for grants and operational procurements as presented in Annex IX of the Programming Document 2020 – 2022, available on the EFSA's website. In the absence of explicit legal requirements to account for microbiomes in risk assessment, there are no guidance nor methodology in place to systematically account for possible effects on microbiomes or effects by microbiomes on human and animal health. The presentation is based on the selected project dealing with the Lot 1 of the call (i.e., Evaluating the impact on/by gastro-intestinal tract microbiomes (human and domestic animal) in assessments under EFSA's remit). The main objective of Lot 1 is to build capacity for (1) evaluating the impact on microbiomes by various modulators under EFSA's assessments, and (2) evaluating the impact of microbiomes on human and animal health, in order to determine whether microbiomes can be included in risk assessments under EFSA's remit or not. The RIMICIA project is being developed by a consortium composed of Consejo Superior de Investigaciones Científicas (CSIC) and L'Agence Nationale de Sécurité Sanitaire de l'Alimentation, de l'Environnement et du Travail (ANSES). RIMICIA will be implemented over a period of 30 months, with a draft final report expected for mid-September 2023.

The RIMICIA consortium has developed a strategy to facilitate an accurate and critical assessment of the evidence-based research dealing with the impact of dietary modulators in the human and animal (poultry, ruminants and pigs) gut microbiomes in an unbiased and holistic way. Up to 20 information sources were screened by the RIMICIA Consortium in order to select the most appropriate ones for the project. A comprehensive list of potential dietary modulators of the human and animal gut microbiome has been compiled following internal discussion with EFSA. The potential dietary modulators have been grouped into seven different categories to streamline the corresponding literature searches. An eighth category has been added for examining the potential health benefits and risks of broader dietary patterns in the gut microbiome as there could be a clear limitation to studying the health effects of individual nutrients and related compounds because they are rarely consumed in isolation. To complement the assessment of the results derived from these literature searches and to assist expert's knowledge and judgment, an ad hoc user-friendly web interface has been designed. Likewise, text-mining studies are under development to look for potential relationships among gut microbiome – disease – dietary modulators. The RIMICIA project has compiled information of a series of potentially harmful compounds for the human and animal (i.e., pigs, poultry and ruminants) gut microbiome which could need an additional perspective provided by the gut-microbiome science to fully understand their health hazards. However, these identified compounds are clinically understudied since most studies were conducted in vitro, ex vivo or in rodents. Indeed, there is a bias toward systematic reviews and clinical research studies focused on dietary compounds exerting beneficial effects on the human gut microbiome. Therefore, there is an important gap of studies addressing the structure-function relationship and dose-dependent effect of dietary substances that could be potentially harmful to the human and animal gut microbiome. Moreover, the quality assessment of the systematic review and clinical trial studies gathered by the RIMICIA consortium indicated a lack of consistency and standardisation in methodologies concerning recruitment, follow-up, clinical data collection, sampling, and microbiome analysis, which are necessary for robust comparison and synthesis of results.

To sum up, according to the gathered evidence, human and animal gut microbiome may play a critical role in the metabolic and inflammation processes, immune reactions and integrity of intestinal mucosal barrier. Nevertheless, gut microbiota has traditionally been an overlooked and underestimated target in the metabolism of certain diet-derived compounds before reaching the general circulation.